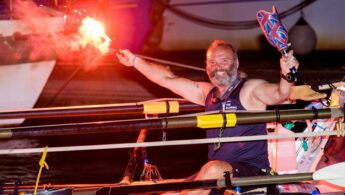 Lee has been an ongoing supporter of the Charity, from allowing us to auction his record-breaking oar in our annual London Dinner, to promoting the Charity through his contacts. He is an invaluable force that we are proud to support in his journey through breaking down barriers surrounding disability. Before and after his accident, Lee has constantly raised funds, morale and provided inspiration whilst pushing the boundaries of expectation.
Born in Dagenham, made in The Royal Marines. Lee lives in Devon and was a serving Royal Marine for 24 years. After coming through three operational tours of Afghanistan unscathed, Lee lost his right leg after being hit by an engine block as he was helping a motorist who had crashed into the central reservation of the M3 in Surrey in 2014. Although his right leg was severed in the impact, the serviceman's training kicked in and he was able to instruct bystanders on how to tie a tourniquet and help paramedics to save his life.
Following a medically induced coma, five weeks in hospital and a long stay in rehabilitation, while recovering from his injuries Lee began planning his future. In 2014 Lee was shortlisted for the Pride of Britain award.
In 2015 Lee set-off to row 3,000 miles across the Atlantic Ocean in just a rowing boat. The Row2Recovery team of four injured veterans had just 3 legs between them. In February 2016, some 46 days, 6 hours and 49 minutes later they rowed into Antigua and the record books as the worlds first physically disabled crew of four to row any ocean.
Following this, Lee became the world's first physically disabled person to row from mainland Europe to mainland South America solo and unsupported. Lee Spencer, The Rowing Marine, broke the able-bodied record by an astonishing 36 days and also broke the record for the longest solo and unsupported ocean row by a physically disabled person, a total of 3 Guinness World records.