In Jun 22 the Corps will commemorate the 40th anniversary of the Falklands War.
In 1982, over 3,500 members of 3 Cdo Bde RM and attached units deployed to the South Atlantic and fought to recover the Falkland Islands, liberating British citizens from Argentinian invasion and rule.  This was a momentous period in Royal Marines history, and it is recognized as one of the major Corps battle honours.  A distinct part of the conflict and symbolic of the Royal Marines was the 45 Commando yomp across East Falkland, with "the Yomper" becoming a highly publicized and iconic image of the war. 
At the time, the unit covered 56 miles in just 3 days, traversing boggy, rough terrain in harsh weather conditions.  One week later, on the night 11/12 of Jun, the unit regrouped, attacked and defeated the Argentine forces on Two Sisters.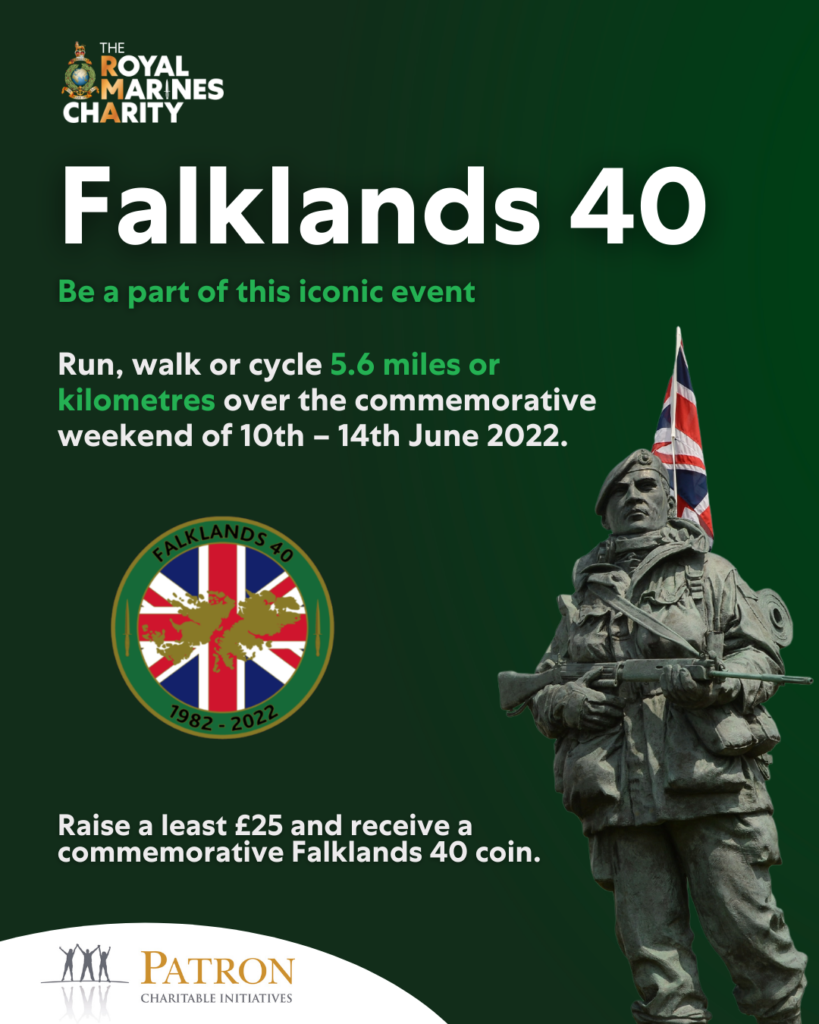 To celebrate Falklands 40 and to raise much-needed funds for RMA – The Royal Marines Charity, Commando and Reserve Units across the country, the Royal Marines Association and our cadet community will take part in a very simple event to recreate the yomp 40 years on.
We are asking as many serving and retired Royal Marines as possible to run, walk or cycle 5.6 miles between the 10-14 Jun; this can be done literally anywhere.
  If a minimum of £25 is raised for RMA – The Royal Marines Charity participants will receive a fantastic Falklands 40/RMCommando80 commemorative coin as a memento – see below.   Please join us, the more participants, the more we can raise for our Charity. It just takes a moment to register your interest at the link below.