Our weekly round-up includes the 45 Commando Sniper Event, 40 Commando Falklands Reunion and updates on some of our incredible fundraisers!
45 Commando Sniper Event
45 Cdo RM have again provided their snipers and Recce Troop to run a 4-day event between Barry Budden ranges and RM Condor to support our fundraising.
The exercise is called Woodlands Shot and provides experiences in Close Quarter Battle (CQB) Camouflage and Concealment and Stalking. It culminates in a Regimental Dinner hosted by the units CO and RSM.  

The 14 guests had arrived from all parts of UK and USA and were looked after by Relationship Manager, Nick Holloway and Director of Development, Tom Wilson. Guests ethused about the quality of Royal Marines who they were in regular contact with.  This is the 5th time this event has been run out of Royal Marines Condor as is going from strength to strength, of the 16 required for next year we already have 4 places filled.
---
40 Commando Falklands Reunion
The membership team had the honour of supporting over 300 people at the 40 Commando Falklands Reunion at Norton Manor Camp.
A fantastic event organised by WO1 Stu Bratherton was enjoyed by members of the Unit from 1982 and their families. A great day was had by all with lots of new members and great support for RMA – The Royal Marines Charity, "United we Conquer".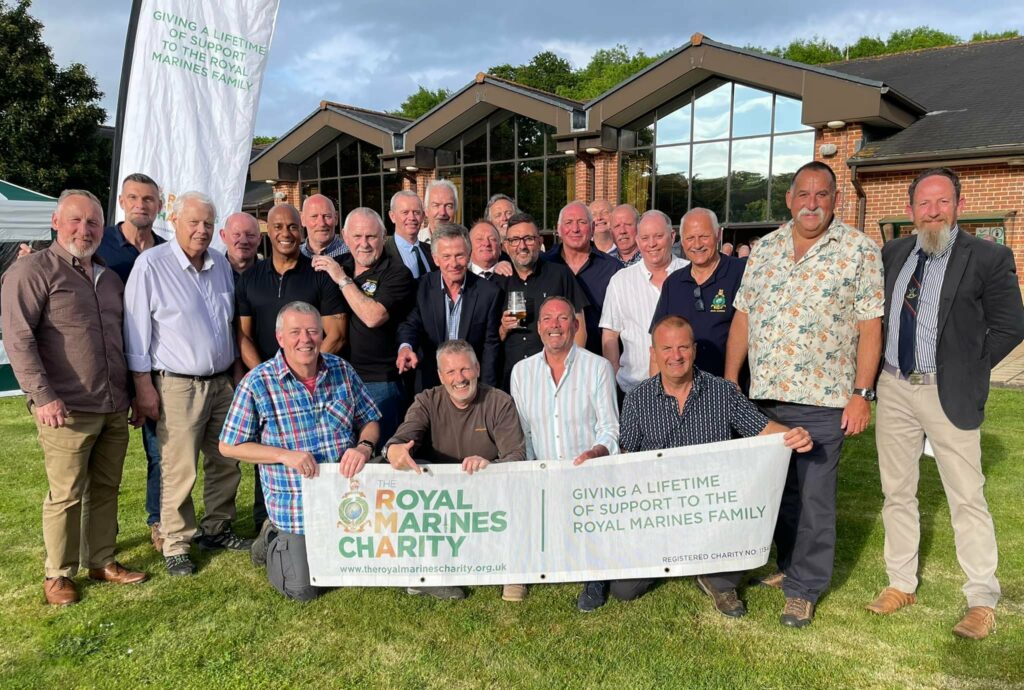 ---
Bootnecks Into Business
Our Employment & Education Manager, Zoe Darnbrough, attended the amazing network event set up by Bootnecks In2 Business and supported by RMA- The Royal Marines Charity on Wednesday 18th May 2022.
Thank you to Citi Bank and Matthew Stovin-Bradford for hosting the evening's Bootnecks Into Business networking event. Thank you also to all those who travelled to London. 2000+ LinkedIn followers passing the word through this network. Along with new employers joining the network.
---
In Memory Fundraising
The amazing Verity Potts recently took part in the Exeter Live Better Marathon running in memory of her brother and mum. Verity had a fantastic performance on the day and bagged 7th place in the ladies participating. She has also smashed her fundraising target having raised a whopping £717.50 including gift aid. A huge well done to Verity.
We also saw Lynn Pyman taking part in a formidable Tough Mudder event in memory of her son. Lynn not only completed a Tough Mudder, but she is also signed up to complete the annual 42Cdo Mag 7 walk next week and will be organising a car boot sale to raise money for our charity. All this coincides with her 60th Birthday year. Well done Lynn and happy birthday wishes from everyone at RMA – The Royal Marines Charity.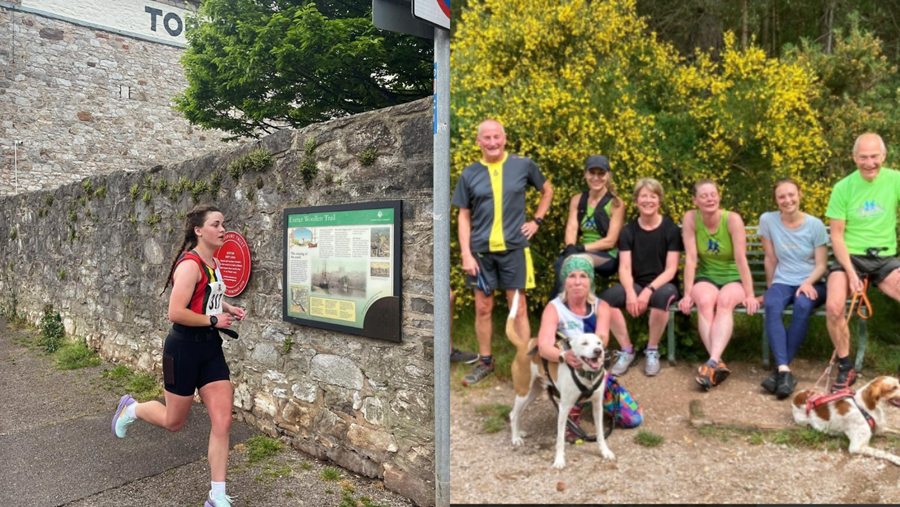 ---
RMA Gig Club
Congratulations to the RMA Gig Club who took part in the Cockleshell Challenge in Portsmouth finishing 2nd. This is the first time all but one of their members have rowed this distance in a competition field.
The course saw the team pass Lumps Fort where the Cockleshell Heroes of WW2 trained for Operation Frankton, the December 1942 raid by canoe-borne British commandos on shipping in Bordeaux Harbour. #RMfamily
---
RMA North Wales & RMA Blackpool
Last week our Membership team were out on the road, visiting the North Wales and Blackpool branches of RMA.
Thank you to both branches for their hospitality and generous donations of £780 and £500 respectively.  We really appreciate your dedicated support.
---
Mick & Steve reunited! 
Mick and Steve are back together again. Heading down the Macclesfield Canal towards Kidsgrove.
Cockleshell Founder and Falklands veteran, Mick Dawson and the Cockleshell team are travelling from the Commando Memorial at Spean Bridge, Scotland, to the Yomper statue in Southsea, mainly by kayak.
Along with Mick, fellow veteran Steve Sparkes will also be paddling the route. In 2018, Steve became the first blind person to row the Pacific, which he did alongside Mick under the Cockleshell Endeavour banner.
They set off on April 2nd and will complete their endeavour on June 14th, which will mark the exact duration of the Falklands War, 40 years ago, in which a young Mick Dawson fought as a Royal Marine.
To donate, please visit: justgiving.com/fundraising/cockleshell-endeavour-falklands
---
Beating Retreat Update
You may have heard on Saturday about the partial stand collapse at Horse Guards on Saturday. Because of this, the performance of Beating Retreat this coming Wednesday and Thursday has been cancelled by order of London District.
This is in order for investigations to be completed and all stands checked and made safe prior to the Trooping of the Colour on 2 June over the Platinum Jubilee weekend. Negotiations are underway to reschedule the performances this summer, with potential new dates of 13th & 14th July 2022 under exploration, with the Corps Reception following the performance on the 14th.
After careful consideration, the Commandant General has decided that the Corps Reception following this Thursday's performance should also be postponed.
We very much regret the disappointment that this decision which is beyond our control and made on safety grounds will cause, and any expense incurred in arranging to travel to London and stay overnight.
All tickets will be refunded. Ticket holders will be offered the opportunity to purchase tickets for the rescheduled dates ahead of release to the public.
Please note that as payment was made through the Royal Navy & Royal Marines Charity Enterprises, RMA – The Royal Marines Charity is not able to process refunds.
Our thoughts remain with those affected by Saturday's incident, wishing them a speedy recovery.
---