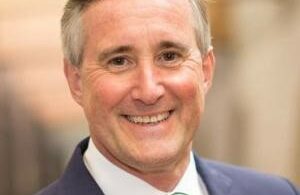 Bob Wigley was born 4th February 1961. After spending his childhood in Exeter, Bob graduated from the University of Bath in 1983 with a BSc in Business Administration. 
Bob has subsequently held a significant number of positions within the world of finance, spending the majority of his working life with Morgan Grenfell and Merrill Lynch, serving as the EMEA Chairman of Merrill Lynch between 2003 and 2009.
He holds prominent positions in the finance world, not least the chairmanship of UK Finance. He is currently acting in a liaison role between the Financial Services Sector and business to recapitalise debt-ridden businesses after the CV-19 crisis.
Major Current Roles:
–          Chairman of UK Finance
–          Chairman of Vesta Global Holdings Ltd
–          Chairman of Secure Broadcast Ltd
–          Chairman of Ellestone Partners LLP
–          Chairman of Bink Ltd
–          Co Chair UK Economic Crime Strategy Board with the Chancellor and Home Secretary
–          Member of Senior Practitioner Ctee of Financial Service Authority
–          Non-Executive Director Royal Mail Group & Chair of Audit Ctee
–          Non-Executive Director of Symphony Environmental Plc
–          Non-Executive Director of Queens Club Ltd
–          Non-Executive Director of the Qatar Financial Centre
–          Member of Advisory Board of British Airways Visiting Fellow of Oxford University
–          Chairman of the Global Advisory Council of Oxford University's Centre for Corporate Reputation
–          Member of the Tailored Review panel for Historic England and English Heritage (appointed by Sec of State for DCMS in 2019)
Charity positions held:
–          Corporate Board Member of Cancer Research UK
–          Honorary President of the Royal Marines Club