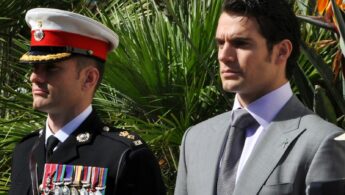 Actor Henry Cavill, known for his roles as Superman, Geralt of Rivia in The Witcher and many more is our longest serving Ambassador.
Henry has very close links to the Corps family. His brother, Colonel Nik Cavill MBE is a senior serving Royal Marine.
From supporting our events to offering his time to raise funds for the Corps family, Henry is a committed Ambassador of our Charity, helping to take our message to an international audience.
"I choose to support this charity, not only because of my obvious familial connection, but because of the deep respect I have for the Royal Marines as men and as a corps."

Henry Cavill
In 2014, Henry helped the charity celebrate the 350th year of the Royal Marines, competing in the Gibraltar Rock Run and attending subsequent commemoration events over the weekend. The 'Man of Steel' then showed his steel in 2016, taking on the Royal Marines Commando Challenge, facing a gruelling fitness trial through a series of muddy tunnels, pits and ponds.
Henry's dedicated fans continue to show their support for the Charity. Our link-up with Omaze in 2017 allowed fans and supporters to donate for a chance to meet Henry and enjoy a champagne toast atop the London Eye, raising over £100,000 for the Charity.