Edition 18
This week we bring you news of an historic key appointment, some powerful new mental health awareness videos, a high-power US-engagement and, as always, more inspirational fundraising.
To subscribe to receive our weekly round-up to your inbox, please click here
---
Historic key appointment
Many congratulations to our Patron, General Sir Gordon Messenger KCB DSO* OBE DL, who has been installed as the 161st Constable of the Tower of London – the first time in 1,000 years of the Tower's history, a Royal Marine has picked up the keys to the Tower of London.
The role is one of the oldest in the country; since 1078, the Constable of the Tower has been the Crown's chief agent in the capital, watching over prisoners and overseeing operations and security.
Commando Mindset Training team takes Boston by storm
Our Commando Mindset Training team comprising veteran Royal Marine Commandos, Joe Winch (mid-front left) and Jon White (rt), together with RMA Director of Development Tom Wilson (front left) are fresh off the plane from a whistle-stop visit to Boston, Massachusetts. There they presented the management resilience training to a senior Clinical Development Group from one of the world's leading pharmaceutical companies that has research and development sites around the world.
A representative from the company enthused: 'This was a tremendous day. Your openness, honesty, and incredible leadership for this program is second to none'.
Tom Wilson, RMA's Director of Development comments: 'We all really enjoyed presenting Commando Mindset in the US for the first time. The feedback immediately after was really positive and it is clear that the training resonated with all the attendees we spoke with.
We feel enormously privileged to have been able to deliver this to such an influential audience in Boston and are truly grateful to Joe and Jon for their powerful, brave and candid participation."
RMA – The Royal Marines Charity has been taking the Commando Mindset programme to wider audiences to help senior management build extraordinary team resilience. Leading financial and pharmaceutical companies are finding it especially valuable in helping empower those working under the extreme pressures of tight deadlines – though this was the first time they have taken it so far 'offshore'.
Mental health remains top of mind
With the aim of encouraging healthy behaviours, mental fitness and promote earlier help-seeking behaviour in reducing suicide risks within vulnerable Serving and veteran communities, our Health & Wellbeing team has unveiled the first of a powerful series of short videos.  
The series mark the next stage of its Armed Forces Covenant Fund Trust Funded (AFCFT) 'Lifting the Lid' mental health awareness campaign and will be used to reinforce the message that what you see of someone on the outside is not necessarily what they are feeling on the inside.
The launch follows the hosting of RMA – The Royal Marines Charity's inaugural Suicide Awareness Symposium, 'One is Too Many – Complete the Jigsaw', held at the Gordon Messenger Centre Commando Training Centre Royal Marines, Lympstone (Devon) last month.
This brought together for the first time over 50 suicide awareness and prevention experts working in and supporting the wider Armed Forces community. It attracted representatives from the NHS, specialist welfare, Chaplaincy, and from partner organisations such SSAFA (The Armed Forces Charity), Walking with the Wounded, Help for Heroes and ZSA (Zero Suicide Alliance).
The Charity values the collaboration and partnership made possible through its own AFCFT grant, awarded as part of the 'One is Too Many' funding, and is pleased to help raise awareness of Help for Heroes new campaign called 'Read Between the Lines'. This free, 30-minute online training offers the tools, confidence and knowledge to know what to do if you think someone is having suicidal thoughts.
Still making a run for it
As part of the RM Commando 80 Challenge, and as he edges ever closer to his 50th Marathon, remarkable RM Commando LCpl Luke Grainger will this weekend in Plymouth complete yet another marathon in his attempt to run 60 marathons in 60 days.
Supported throughout by both Royal Marines and Army Units, who serve within the Commando Brigade, he will have completed 49 by the time he heads to Scotland next week. There. with a milestone 50th run in Edinburgh. he will kick off on the final leg of his amazing endeavour to raise funds for RMA – The Royal Marines Charity.
He plans to finish his 60th run on 30th October at the Commando Memorial near Spean Bridge, the ancestral home of the wartime commandos who trained at nearby Achnacarry during WW2, 80 years ago. Absolutely awesome.
But immediately before that, he'll be making another really big and very special appearance – so do continue to watch this space!
Where some of the money goes 
Last month, the Health and Wellbeing Team processed 48 welfare and benevolence grants totalling over £76,500 – six to various partner organisations including Bike Tours for the Wounded (BT4TW) to fund a bike tour along Route 66 for four wounded, injured and sick beneficiaries; six grants to serving personnel, the remaining 36 to the Veteran community that included grants towards travel costs, disability aids, bankruptcy costs and essential home renovation works for a family with seriously ill child and mother.
Meanwhile, our Employment & Education team has distributed a total of £63,885 grants to 58 beneficiaries to date this year.
And, in the year to the end of September, the Membership team has supported 170 funerals.
Retaining valued support
Our Employment & Education team was delighted to join former Royal Marine Jamie Gibbs, the founder and director of the Retain Limited group of companies at the opening of its new office in Plymouth. Johnny Mercer, Conservative MP for Plymouth Moor View (former British Army Officer and previous Minister for Veterans' Affairs) helped cut the ribbon.
Retain is a valued donor and a huge supporter of the Charity, providing many employment opportunities for former Royal Marines, and going the extra mile in helping them adjust to life in the civilian world.
The group (Retain Roofing, Retain Access and Retain Energy) specialises in industrial and commercial roofing, scaffolding installation, safety netting and access solutions, and roof-mounted solar PV design and fixtures.
They were recently awarded the Defence Employer Recognition Scheme (ERS) Silver Award (currently working towards Gold), reflecting the company's continuous commitment to supporting the armed forces community in a manner that aligns with the values of the Armed Forces Covenant.
Down to earth support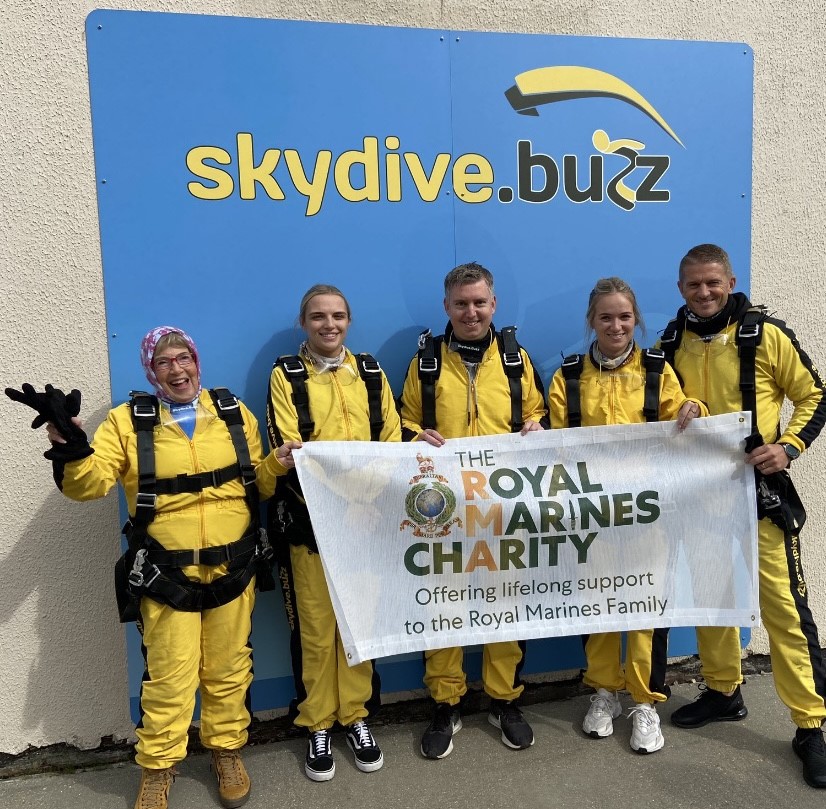 A huge thank you to these amazing supporters – a team of four fearless sky divers from Atkins Accountancy – Maddie, Neil, Adrian and Leah – who took to the skies to complete a 15,000ft jump in support of the Charity! They were accompanied by one of our oldest skydivers, Marina – such bravery shown and fabulous fundraising that topped more than £3,455! This activity had been in the pipeline since 2020 with Covid scuppering all previous plans – thank you for such great determination to hang in there and make it finally happen.
Get the Gen in 10
Zoe has been working with us for almost two years.
1.     In less than 20 words, describe what your job entails…We support all compulsory discharged Royal Marine service leavers, veterans and spouses into meaningful and rewarding employment through bespoke careers advice and guidance, sourcing of employment opportunities and funding for training, qualifications and equipment.
2. Success means…..reaching a goal or accomplishing something you've set out to achieve
3. Best advice received? Life is all about managing expectations – most of all your own
4. First paying job? I worked in a museum of old 1 penny slot machines run by John Grisham who was also a member of the Magic Circle
5. Craziest thing you've ever done? The normal stuff, skydives, abseiling……..
6. What would people be most surprised to know about you? I have a passion for dendrology
7. What is your strangest possession? My daughter finds it strange I still have a collection of her baby teeth
8. Best ever film or book? Film Road House and Book The Diary of a Young Girl
9. What well-known person would you like to share dinner with – and what one question would you ask them? David Attenborough – 'What would you never go travelling without?'
10. Hobbies? Acrylic Painting