Major General Jeff Mason MBE is to hand over the honorary role of Representative Colonel Commandant to Lieutenant General Ed Davis CB CBE on 9th August 2022.
The Representative Colonel Commandant is appointed by Her Majesty The Queen with the responsibility of representing the Captain General or other Royal Family members at RM regimental events, as well as conducting unit visits and attending regimental events in the absence of the Commandant General Royal Marines.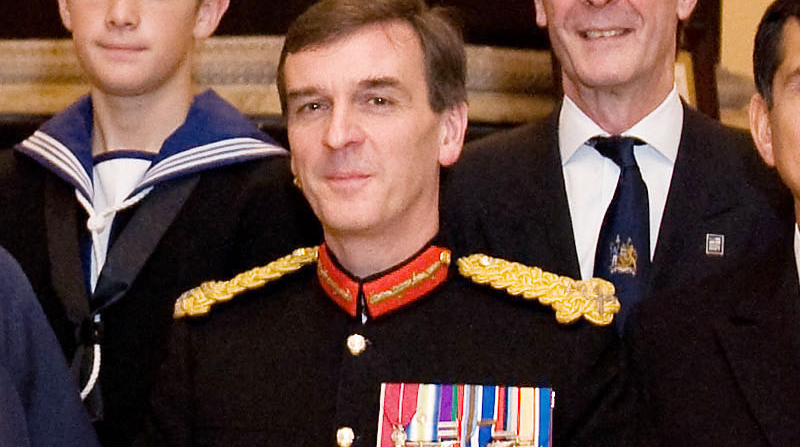 More recently the role has been expanded to include acting as a conduit for information and advice between CGRM and retired RM General Officers, mentoring RM Commanding Officers and senior command roles, as well as being available as a source of advice and support outside of the chain of command.
General Mason, who has been in post for the past four years, was commissioned into the Royal Marines in 1977 and has operational experience in the Falkland Islands, Northern Ireland, Northern and Southern Iraq, Bosnia, Kosovo, and Afghanistan. He became a Major General and, upon leaving the Royal Marines in 2011, spent several years as the Commercial Director for Europe for Supreme Group, a global logistics company which provides support to defence and government organisations deployed on operations.
He is currently Clerk to the Worshipful Company of Butchers, a City Livery Company, and remains Chairman of Trustees of the Falkland Islands Memorial Chapel Trust, a Trustee of the National Museum of the Royal Navy.
General Davis is currently the Strategic Director for Capewell Europe Limited, a Business Development Advisor to Cyjax Limited, Gibraltar Chair of the Commonwealth Enterprise and Investment Council, and Chair of the Entain Charitable Foundation.
Having retired from the UK Armed Forces as Lieutenant General after 35 years in the Royal Navy, he transferred to the Foreign Commonwealth and Development Office. In 2016, he was appointed by Her Majesty The Queen as the 67th Governor and Commander-in-Chief of Gibraltar, serving until his tenure ended in 2020.
His earlier years were spent at regimental duty in the United Kingdom, the Falkland Islands, Cyprus, Norway and Belize.  He commanded a Specialist Military Unit from 2002-2004 which included Operation TELIC 1 in Iraq, and subsequently commanded 3 Commando Brigade Royal Marines from 2010-2011 during which he deployed to Afghanistan as Commander Task Force Helmand on Operation HERRICK 14.  He was appointed the 63rd Commandant General Royal Marines and Commander United Kingdom Amphibious Forces in December 2011. His last Naval Service appointment was as Deputy Commander of NATO Land Command Headquarters in Izmir, Turkey from July 2014 to January 2016.
 He is Vice President of the Naval Children's Charity, Trustee of the White Ensign Association, Ambassador for the Bowra Foundation, Freeman of the City of London, and Liveryman of the Worshipful Company of Plaisterers. 
General Davis commented: "I am delighted and grateful to have been appointed by Her Majesty The Queen to be the Corps' Representative Colonel Commandant in succession to General Jeff. His standout contribution throughout his four years in post has undoubtedly set the bar high for me as I follow in his wake."
He added, "Set against the increasingly pressing security challenges of our dynamically changing world, I particularly relish the opportunity to use my representative role to support the Commandant General to sustain the Corps' ethos, relevance and resilience in any way that is helpful. It is indeed a proud moment for me to have been given this privileged opportunity."